10 BEST WEBSITES TO WATCH ANIME ONLINE
What can be more pleasing and intriguing than Goku creating the Spirit ball or the 'pika-pika' of Pikachu or Light writing down the death note! These days anime has been a great source of entertainment, among people of different age groups, in their busy or chaotic lives. Anime is a form of animated media usually associated with Japan. For people who are new to this field, the beginners, it becomes quite difficult to grab up some good anime streaming sites. Listed below are 10 best sites to watch anime online without much inconvenience.
10 BEST WEBSITES TO WATCH ANIME ONLINE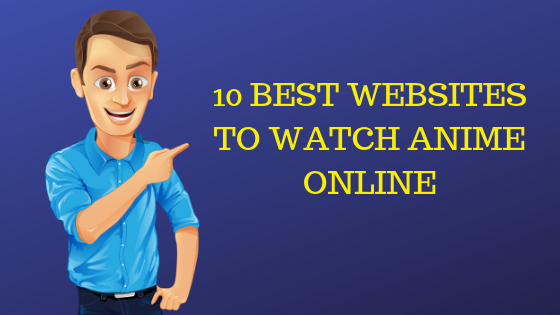 Crunchyroll.com
This will be the number one recommendation because of the hassle-free streaming it provides. It is a legal website which has a wide range of anime, mangas, dramas and much more. There are 14 days free trial for you to watch anime free online. Episodes with subtitles are available in different languages including English.It is a legal anime website that you need to subscribe a premium membership in order to gain access to the series. Anime updates initiating almost every hour. Worldwide accessible
Viewster.com
It is one of the largest online streaming sites. This is also a legal website and is also available as an app. Along with anime, several web shorts, movies, and dramas are also available. Viewster is ad-supported but watching anime won't cost you a buck!
Funimation.com
This is an amazing website, in terms of watching online, as you get your episodes dubbed the same or the next day. There is a subscription cost of $5.99 a month which is less compared to other sites.
AnimeFreak.tv
Here comes another website that gives the viewers a chance to watch their favorite anime for free. The episodes are subbed and dubbed in English. The graphics of the site is quite pleasing as well.Home page has the Japanese style, very bright and colorful. Besides that, contains exclusive contents. Both dubbed and original series versions are accessible on Anime Freak. Anime Freak's Android app now is available on app store.
GoGoAnime.com
Isn't it great when you get what you like, neither paying nor by compromising the quality? This is just your place. The site provides online dubbed and subbed anime free, and at its best quality.Is available worldwide. Moreover, it is a well-organized website for anime fans featuring tons of collection from Manga series to anime films. Nice watching experience includes dubbed episodes and available cartoon clips in English. Japanese learners can go to this website because some episodes are uploaded with a non-subtitle version.Free downloading is possible on this website.
KissAnime
Online, free, dubbed anime of 40+ genre is available here. This site is not legal, though you won't be penalized to use it. The anime and mangas are updated regularly and HD quality videos exist here.Has the highest number of fans and is rated high in popularity among anime buffs. A wide variety of anime episodes of different video resolution are uploaded for every fan. Both dubbed version and original are available. You can download the episode but you need to register and sign in on the website
9anime.is
High-quality English dubbed and subbed anime videos are present in this site. This site offers you a free experience unless you want to register to enjoy the full range of functions.Provides high resolution, little ads, and quick update.You can watch HD series and no interrupting ad before the playing. Updated with the latest episode after the official release.Various search options i.e. searching anime by rate, genre or type and comment and score by other viewers are available on the introduction page.The download is not available.
Watchdub.com
English dubbed, online and free anime of a wide range of genre is found here. The ads might disrupt the flow, but the wait is worth it! There is no active threat reported for this site.
Crackle Tv (sonycrackle.com)
It is not always about the anime series. People are quite interested in anime movies as well. Anime movies, free, online- if this is what you are looking for, you have knocked the correct door. Crackle Tv is owned by Sony Pictures Entertainment Company and is famous for its accessible services. The ads may be disturbing but nothing matters when it is $0.
Netflix
Even the beginners might be aware of how important the word 'Netflix' is in the lives of people engrossed in the anime world as if it were their own. This site not only streams anime but also invests in it, specifically termed as the Netflix originals. It offers a wide range of genre, from sci-fi to comedy, uploading subbed and dubbed videos. After an initial free trial, there is a paid subscription.
AnimeHeaven.Eu
For watching anime series and movies. Provides both dubbed and subbed versions. Genres include drama, action, comedy, mystery, thriller, etc.
Animeget–
For streaming and downloading anime. The website has a simple outlay, the variety of anime it offers is amazing & there are at least 4 servers to download a single episode so that you can choose from.
Offers a premium viewing experience. There is nearly no advertisement while anime series are nicely arranged within categories. Famous series they have are One Piece, Hunter X Hunter, and Naruto. You can download whatever you want.
Provides with diverse anime series with genres from drama to action. This website features a neat interface with a long list of anime series. Dubbed anime version is provided. But downloading is impossible.
'Affordable, Accessible and Reliable'– the websites listed above gives you a touch of all three, making it a package of a wonderful experience for the viewers. Have fun browsing through them and hope you don't become an 'otaku'!